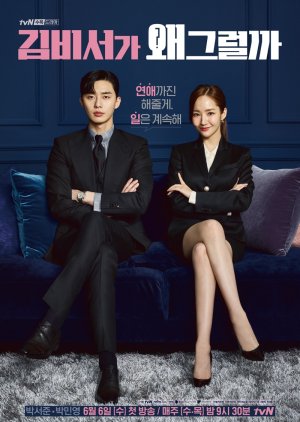 It could be that I'm rating this a little generously – but for 14 episodes I was totally in love with this sweet and fluffy romantic comedy. The last two episodes are where it faltered for me. Park Seo Joon was flawless here, and I can't complain about him in any way. And the comedy was gold. I wasn't disappointed with the final moments, but I would say that episodes 15 and 16 were pretty much completely filler material as they had run out of story and needed to stretch the time. I've been known to comment that I would be happy just watching my OTP be happy and in love, but it turns out that I do, in fact, need to see some actual story – even if it's weak. LOL!
Again, PSJ can pretty much do no wrong in my eyes right now. He's pretty to look at, has good comedic timing, and his romance scenes were believable and tingle-inducing. Who else could make such an arrogant guy lovable and sweet? Park Min Young – started out really well. She looked sharp, had pretty smiles, and great bantering. And my goodness- THAT PONYTAIL!! Props to the ponytail! 🙂 But I wasn't always fully convinced of Mi So's affections towards Young Joon because of how PMY acted. I've not read the webcomic that this is based on, so I don't know how true the adaptation is to the source material. In the last two episodes, her passiveness toward Young Joon was awkward and lacked any of the passion that had been building from the rest of the story. Pyo Ye Jin as Ji Ah, was super cute, but she seems to have been typecast into similar roles now. I did enjoy her in this and hope to see her in more roles soon. Hwang Bo Ra as Bong Se Ra was a bit over the top in her comedy like she was trying way too hard. But both Ji Ah and Se Ra's office romances were very cute and fun to watch. Kang Ki Young did a great job in his role, playing Young Joon's employee and friend….but mostly his advice coach. Lee Tae Hwan, playing Young Joon's brother, was such a mild character that he was virtuously unnoticeable and fairly useless except as a plot device.
The story was thin and didn't fill out the available time for the story, but because I was enjoying the romance it didn't become super obvious until the last couple of episodes. I enjoyed the banter and the comedy between the co-workers and the romance between Young Joon and Mi So. I found the sound effects hilarious and Mi So's side eye made me laugh every time. Although the secondary romances were fairly cute, there is little substance to this show, if I'm being perfectly honest. I am all up for fluffy and light when it comes to romantic comedies- so this fits that perfectly for that. If you expect a rom-com to be anything other than this, you will be disappointed and I wouldn't recommend it. I was happily entertained for the majority of the show, though, regardless of the plot. (I'm not difficult to please when it comes to rom-coms.)
I could see myself re-watching parts of this show one day when I want something light and cute.
Review by kingsqueen