synopsis:
"The World Of The Married" is a Korean romance/thriller story based on the drama series "Doctor Foster" written by Mike Bartlett. The story is about a married couple who go back and forth cheating on each other which leads to a multitude of emotions like grief, revenge and forgiveness.
episodes: 16+2 specials 
genre: melodrama, romance, family,  thriller
country of origin: South Korea
aired: March 27-May 16, 2020
main cast:
character name         Actor/actress name
Ji Sun-woo                   Kim Hee-ae[a]
Lee Tae-oh                   Park Hae-joon
Yeo Da-kyung              Han So-hee
Go Ye-rim                     Park Sun-young
Son Je-hyuk                 Kim Young-min
Sul Myung-sook           Chae Gook-hee
Yeo Byung-gyu            Lee Geung-young
Uhm Hyo-jung             Kim Sun-kyung
Lee Joon-young          Jeon Jin-seo
Min Hyun-seo             Shim Eun-woo
Park In-kyu                 Lee Hak-joo
Kim Yoon-ki                Lee Moo-saeng
Plot:
Ji Sun-woo is a family medicine doctor and associate director of Family Love Hospital and is married to Lee Tae-oh, an aspiring director and has a son named Lee Joon-young. Sun-woo thinks everything around her is perfect until she finds out that her husband is cheating on her with another woman named Da-kyung.
episode 3:
Tae-oh discovers Da-kyung's pregnancy and decides he wants to support both women at the same time. He claims to love both Sun-woo and Da-kyung and that it's hard to elaborate. He also says his love for them is different but he loves them both nonetheless and will be loyal. Tae-oh's grandmother gets admitted in the hospital in a critical state which further adds to the tension.
Sun-woo also starts getting serious as she consults her lawyer and is conflicted between divorcing Tae-oh or letting him off the hook and consider it a fling. However, she sees Ka-kyung buying a book about pregnancy and childcare and decides to talk to her. She realizes that Da-kyung and Tae-oh have been together for 2 years now and that Tae-oh is planning a divorce in 2 months. 
Sun-woo sees this as an opportunity and decides to go to Tae-oh's company and check his financial status following the advice of her lawyer. She finds out that he has a mortgage loan and a policy loan and decides to search his room where she finds multiple statements confirming that her husband is close to going bankrupt.
episode 4:
Hyeon-seo's ex boyfriend blackmails Sun-woo with a video recording of Tae-oh going to Da-kyung's apartment. He asks for a huge sum of money if she wants to keep things between them. This was sure to tarnish her reputation and make things hard for her and so she asks for some time to think about it.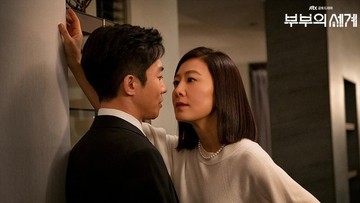 episode 5:
Sun-woo finds herself drunk and wet in the rain. She remembers how her mother died in a car crash and tries to kill herself but Dr.Ma saves Sun-woo. The following day she brings Tae-oh to  Byung-gyu's estate for dinner and causes a scene  by revealing Tae-oh's and Da-kyung's relationship and Da-kyung's pregnancy. She also says she's going to take Joon-young with her after the divorce. The irony here is how Tae-oh feels betrayed when he learns about her relationship with Je-hyuk, despite him having been disloyal all this time.
episode 6:
Tae-oh and Sun-woo argue over custody for Joon-young. The next day she sends Tae-oh the divorce papers. Later at the hospital she tells Hyeon-seo's ex boyfriend that she refuses his offer which causes him to go public with the video. This has severe repercussions as patients cancel their appointments with her and post multiple negative reviews. 
Sun-woo gets confronted by Tae-oh at the hospital and races to Joon-young's school to escape with him. She doesn't realize that Tae-oh had a tracker on her which he uses to follow them. Sun-woo talks with her son on the mountain and asks him if he'll stay with her. Joon-young doesn't answer which causes her to hold him in a fit of rage and he slips.
Tae-oh arrives at the house and sees Sun-woo standing silently and asks about Joon-young. She doesn't answer. He asks her again and she tells him that Joon-young is dead. This enrages Tae-oh and he almost kills Sun-woo. Joon-young walks in unharmed and sees his mother severely injured. Two years later Sun-woo and Tae-oh get divorced. Joon-young and Sun-woo try to live a normal life and Tae-oh, now rich and successful, returns to Gosan with his new wife Da-kyung and their daughter Jenny.
Conclusion:
Will the wounds between them ever heal? Or will the past haunt them till death? Only time will tell. Overall this drama was a great example of how impulsive humans can be and the consequences no one wished for. The acting was really well done and the suspense was truly amazing with unique plot twists and unexpected outcomes.